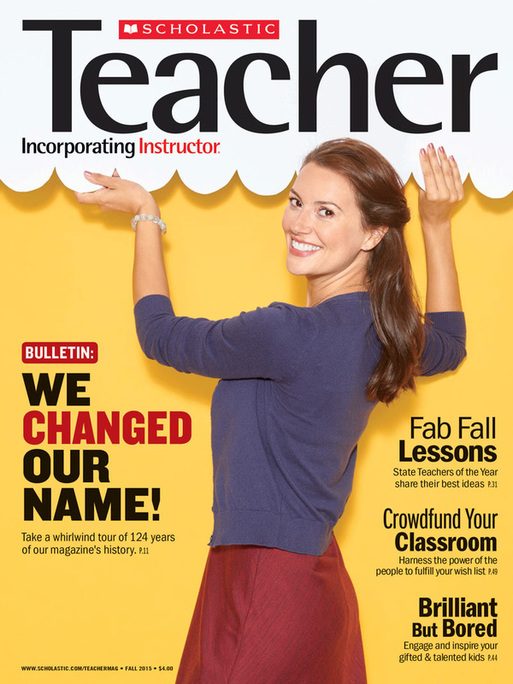 I LOVE Scholastic…always have. From the time I was a little girl, anxiously awaiting the big red box of Book Club (not Reading Clubs) orders, to being a Scholastic Top Teaching Blogger, I have followed and adored this company most of my life. You know what makes them so great? (…aside from the plethora of amazing books that we as both children and teachers covet) …Scholastic CONSTANTLY EVOLVES, and most of the time, they do so as a result of teacher feedback, in a way that benefits educators most.
 
Their newest evolution: Scholastic Instructor is now Scholastic TEACHER.  With this already amazing teacher resource revamped and relaunched, they are kicking it up a notch in every way. If this newly released first issue of Scholastic Teacher is any indication, every issue will be absolutely JAM-PACKED with incredibly interesting and abundantly useful articles, tips, tricks, and techniques.
It was a tough pick, but below I've highlighted my top 5 finds in the inaugural issue of Teacher. Check these out…and pick up a copy yourself to read the countless other amazing articles that you can take ideas from and instantly implement in your classroom. See brief descriptions below and click on the image gallery to be taken to the article online!
 
Be sure to check out the history of Scholastic Teacher to the left! I LOVE this timeline!  To celebrate this awesome teacher resource & the new launch of TEACHER, I'm pairing up with Scholastic to give away ONE FREE YEAR of subscription to Scholastic Teacher!!
**WINNER ANNOUNCED BELOW!**
Other Articles